It just occurred to me that I didn't do this. I know it's July but whatever. These are the 10 best films I've seen in 2010 regardless of release date. This is in chronological order of date seen.

Memories of Murder (2003) Dir: Bong Joon-ho

A group of detectives investigate a serial killer targeting young women in the countryside. The plot's kind of generic, for sure but the way the story unfolds is not considering it's coming from the context of another culture (and another decade). The film is gripping and totally unpredictable which includes some surprising bits of humor and an ending that the audience will either love or hate (depending on who they are). Time to see more from this Korean director.


Hoop Dreams (1994) Dir: Steve James
I am NOT a sports fan which is probably the reason I keep putting off this acclaimed documentary. I mean, an almost three-hour documentary on basketball doesn't really sound appealing to me. Now that I finally saw it and I have to say that it is not really about basketball at all (it could've been any sport or any activity really). It's a compelling portrait of a journey for two low-income inner-city boys trying to get a better life for themselves. This coupled with some great filmmaking makes this documentary superior to most (if not all) standard Hollywood-made sports movie.
Letter from an Unknown Woman (1946) Dir: Max Ophuls
Joan Fontaine gives an absolutely exquisite performance as a woman helplessly in love with a womanizing musician (Louis Jordan) who because of all his womanly conquests simply does not remember her and suffice to say it all ends in tragedy. It's gorgeously filmed and is absolutely heartbreaking. This film has zoomed to the top of my favorite films of all time list, I have to say.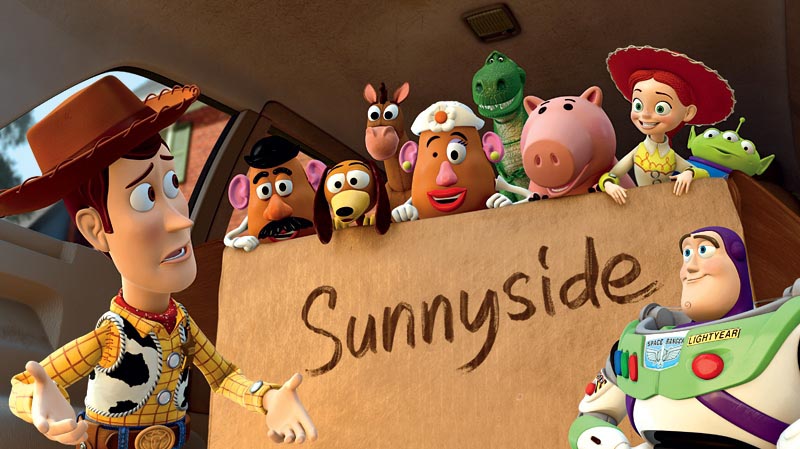 Toy Story 3 (2010) Dir: Lee Unkrich

PIXAR has done it again. How do they do it? This movie is quite simply pure and utter joy and fits quite nicely with the previous two installments and is definitely another feather under PIXAR's cap. Face it, if your weakest film is Cars, you're doing something right. There are lots of clever gags in this one as well as lots of genuine heart. The ending is particularly very moving and beautiful. And great voice acting all-around too. Most of the voice performers were given a chance to shine. Very easily the best film released in 2010.

Tatlong Taong Walang Diyos ("Three Godless Years") (1976) Dir: Mario O'Hara
Filipino critic Noel Vera called this "arguably the best Filipino film ever made". I don't think I agree (there are several Filipino films I like better) but it is definitely in the Top 10. A young Filipino woman (Nora Aunor, in one of her best roles) is raped by a Filipino-born Japanese soldier (Christopher de Leon) during the start of the Japanese occupation of World War II. The two eventually fall in love and face the horrors and savagery of war first hand where no one (Japanese, American or Filipino) gets away without blood on their hands. Despite the poor quality of the print of the DVD, I can still tell that this is first-rate extraordinary filmmaking and certainly a great World War II film.