Ah yes. I thought this would be a cool idea to build up to my finalized Top 10 of 2011 list. I thought I'd save and finalize my top 10 lists of the past years, about one a week and work my way up to 2011. Why start at 1993? Because 1993 is the year where I started to actually really take films very seriously and I really started to follow the comings and goings of the film world enough that could legitimately create a Top 10 list based on the films I've seen that were first released that year. Let's start.
10. Jurassic Park (Steven Spielberg)
Can you imagine my 13 year old self watching this film for the very first time? Oh, boy. My heart was pounding and my jaw was agape with wonder at the sight of dinosaurs coming to life. It is one of the films where I was first very much made aware by the role of the director. He also made the audience that I was with SCREAM which I've never experienced before. For all its flaws Jurassic Park still holds up remarkably well.
9. The Age of Innocence (Martin Scorsese)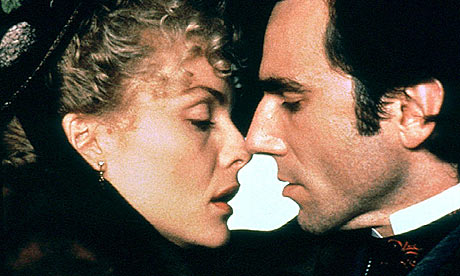 Director Martin Scorsese once referred to
The Age of Innocence
as his most violent film, though unlike a lot of his previous films, no one gets shot or stabbed. The violence of course is referring to the inner turmoil and heartbreak this film depicts. A highly unusual project from the director known for his violent crime dramas, he nevertheless succeeds in similarly gripping the audience with this emotionally devastating love triangle based on the classic novel by Edith Wharton.
8. Searching for Bobby Fischer (Steven Zaillian)
This is a truly remarkable film based on the true story of a real life chess prodigy, Josh Waitzkin. You need not be a chess fan to be fascinated by this well-acted and extremely well-crafted family-friendly drama that manages to be inspiring without being overtly cliched and sappy.
7. The Nightmare Before Christmas (Henry Selick)
Tim Burton produced this now classic stop-motion animated film about Jack Skellington, the ruler of Halloween discovering the joy of Christmas and decides he wants it for himself resulting in scary, funny chaos and complications. It's one of those films I just love revisiting again and again during either Halloween or Christmas. Great score too by Danny Elfman.
6. Groundhog Day (Harold Ramis)
I guess I first started realizing Bill Murray was not only a great comedic actor but a great actor full-stop while I was watching this film. It's about a cynical local news weatherman who is forced to repeat the same day, Groundhog Day, over and over until he gets it right. An ingenious concept of a film and so brilliantly executed. Bill Murray and the talented supporting cast never makes it boring and it's infinitely rewatchable.

5. The Piano (Jane Campion)
This is probably one of the first, like, real arthouse cinema I've ever seen. This is a pure, visionary piece of work from writer-director Jane Campion about a voluntarily mute woman who pours her emotions on the titular musical instrument. It's erotic, emotional and occasionally shockingly violent even. Holly Hunter and Anna Paquin both deservedly won Oscars for their work here and so did Campion's beautifully written screenplay.

4. Farewell, My Concubine (Chen Kaige)
This is a visual feast for the senses as director Chen Kaige takes the audience into the lives of two Chinese opera actors. It's a gay man-straight-man-straight woman love triangle and at the same time a heartbreaking tale of unrequited love. Great performances by the cast and I do believe this is where I first saw the brilliant actress that is Gong Li.
3. Short Cuts (Robert Altman)
Director Robert Altman juggles multiple characters and multiple storylines into one, big tapestry of a film. Based on the works by Raymond Carver, this film contains stories that are tragic, some are funny, some are absurd and some have a little bit of all three. They're brought to life by a large ensemble of actors. It's three hours long but it's never boring.
2. Blue (Krzysztof Kieslowski)
This is the first film in Polish writer-director Krzysztof Kieslowki's Three Colors trilogy and personally, I think it's the best. Juliette Binoche delivers one of her career-best performances (interesting trivia: She turned down a role in Jurassic Park to do this film) as a woman who loses her daughter and husband in a car crash. Add to all that drop dead gorgeous cinematography and musical score and it truly makes this one a real must-see for anyone who gives a damn about film.
1. Schindler's List (Steven Spielberg)
Yes, I'm bookending this list with Spielberg films because 1993 was really one of his big years. I actually first learned about the horrors of the Holocaust through this film. I knew Hitler was a bad guy but I never thought he was *this* bad. The film may not even be my favorite film on the subject but it's definitely up there. Steven Spielberg has delivered some visceral and emotional thrills before this but he puts his directorial talents to good use to depict a horrific, violent, unflinching yet also emotional and heartbreaking look into the most tragic chapters in human history.
Runners-up: The Fugitive (Andrew Davis), The Remains of the Day (James Ivory), In the Line of Fire (Wolfgang Petersen), The Secret Garden (Agnieszka Holland), True Romance (Tony Scott).