My annual New Year's tradition, arranged in chronological order according to date seen and attached are the original reviews:
A Separation (2011)
Directed by Asghar Farhadi
Wow. What an intense, devastating drama. A husband and his wife separate. But an incident involving a miscarriage of a pregnant female caretaker of the husband's father opens up a whole new can of worms. This is one of the reasons why I love cinema. This is an eye-opening look into what goes on in Iranian society. This story can only be told in Iran yet its humanity is universal. The cast is amazing. I also absolutely love the fact that you really sympathize with all the characters involved, which makes this film all the more heartbreaking. It is one of the best films of the year.
Manhattan (1979)
Directed by Woody Allen
It's one of the handful of canon films/all-time/top classics I haven't seen and by God, why did I wait so long? This is an amazing film and without a doubt it's one of Woody Allen's masterpieces. The script is funny and nuanced. Although Woody's films are often not praised for their visuals, this one contains some really jaw-dropping cinematography courtesy of Gordon Willis. Despite clearly made and set in the 1970's, it does not feel dated at all. It's a true classic, one of the greats.
Hugo
(2011)
Directed by
Martin Scorsese
I love film. I'm passionate about film. Director Martin Scorsese through this magnificent film managed to take that love, that passion and put it magically on the screen through a coming-of-age story of sorts of an orphan boy in the train station. The film is unsurprisingly visually dazzling but more than that, it's also a deeply personal work that obviously comes from the heart and it shows. As someone who likes Martin Scorsese, this is definitely in his top five best films. It's one of the best films of the year and any film which captures why the art of cinema is so wonderful is great in my book.
Nausicaa of the Valley of the Wind (1984)
Directed by Hayao Miyazaki
This one is in serious competition with
Spirited Away
as my favorite Studio Ghibli film or even my favorite anime film. Hell, it's already zoomed in my top ten favorite animated films of all time. A princess from a post-apocalyptic world where a huge portion of the world is toxic and unlivable must stop an impending war between two huge cities. It's got pro-environment and anti-war messages all through out but doesn't hit you over the head with it. Instead you get a visually sumptuous, rousing and exciting science fiction adventure film. This is the kind of film I'd be watching again and again. It's wonderful piece of work.
The Music Room (1958)
Directed by Satyajit Ray
An aristocratic landlord hanging on to his old way of life re-opens his Music Room for one last moment of glory. This is my first non-Apu Satyajit Ray film and it's a great one. It really is a sad, melancholy film but also oddly life-affirming in its own strange way. It's also filled with wonderful, exciting and beautiful visuals of a lifestyle people outside of India and outside of that particular society seldom see.
Le Boucher (1970)
Directed by Claude Chabrol
A repressed school teacher and a butcher meet in a wedding and form a friendship then a series of murder involving young women begin to occur in the sleepy small town they live in. It's a slow burn film which takes time to build but the story that unfolds before your eyes is so layered, complex and thrilling that it had completely won me over in the end. It's exquisite thriller/bizarre love story that is sure to invite repeat viewings and much discussions.
The Valley of the Bees (1968)
Directed by Frantisek Vlacil
I've never heard of this film before it was recommended to me and I must say one of the greatest joys in life is discovering little-known cinematic gems and this is one of them. When a high-born man almost kills his son for disrupting his wedding to a much, much younger girl, he sends him to a religious order of knights. The boy grows up and escapes years later. What follows is a very gripping morality tale of the eternal battle of the spirit and the flesh with lots of wonderful layers and textures on it. It's sort of like Andrei Rublev with a dose of Seventh Seal in it but not exactly.
Moonrise Kingdom (2012)
Directed by Wes Anderson
I just flew three hours in a plane and went to a whole different country. What's the first thing I do? Watch a movie, of course (that's the way I roll). It turns out to be my favorite film of the year so far. The plot is simple: Two 12 year olds fall in love and run away throwing their parents and their town into a tizzy. The film is pure Wes Anderson: From the framing, the bright, colorful production design, the music, etc. It's also undeniably quirky, twee, hipsterish, whatever-you-wanna-call-it. In the hands of a less competent director, these types of things often irritate the hell out of me but in the hands of Wes Anderson, he uses it to enhance and complement the story he wants to tell, never sacrificing character and depth. Jared Gilman and Kara Hayward are great as the lead kids and supported very well by the veteran adult supporting cast. Fantastic score, cinematography and design, as well.
Summer Hours (2008)
Directed by Olivier Assayas
Three siblings argue and decide what to do with their mother's house and various properties after she passes away. It sounds like a bore but it's anything but. It's a beautiful, lovely, emotional film about loss, memories, family, the changing world and our changing lives. I found it melancholy but also quite life affirming and treats the subject without manipulation or cinematic sentimentality but still manages to be quite emotional. It's a lovely, unforgettable film.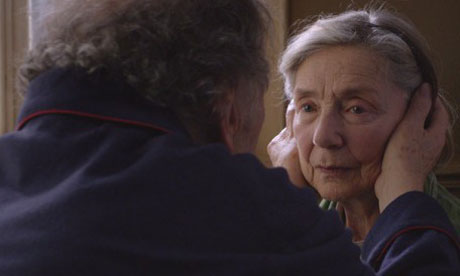 Amour (2012)
Directed by Michael Haneke
The story of Michael Haneke's latest opus is a simple one: After suffering a stroke which paralyzed half of her body, an elderly woman's loving husband tries to take care of her the best he could without going back to the hospital and we see her mental and physical deterioration. There have been many, many films about dealing with illness and a dying spouse but few match the emotion and power this film has. Michael Haneke's signature aesthetic of long, static takes and little to no musical score makes things more real and therefore more uncomfortable and more emotionally devastating. It also helps that the performances of Jean-Louis Trintignant and Emmanuelle Riva are both stunning, it's a beautiful performance duet between the two of them. It's often a tough sit, especially if you yourself have experienced something similar but it's one of the most rewarding cinematic experience you will ever have this year. Truly one of the best of year, perhaps even the decade.