10. Poetry (Lee Chang-dong)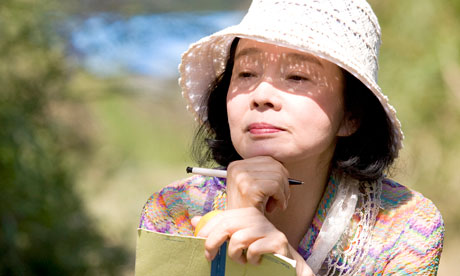 Korean films tend to show up frequently in my lists. This is yet another one. This time, it's from Lee Chang-dong, another great Korean director. This is a compelling, beautiful drama about an elderly woman who takes up a poetry writing class and at the same time having to deal with both a diagnosis of impending dementia and an unspeakable crime committed by her ungrateful grandson. It seems like overwhelming downer of a film but the result is something so beautiful...and dare I say, POETIC. It features a comeback performance from Korean actress Yeong Jeong-hee who coaxed out of retirement by the director to make this film.
9. Shame (Steve McQueen)
Sex addiction is a subject matter that's not too often tackled in cinema. British director Steve McQueen tackles the tricky, racy subject head-on reuniting with his
Hunger
star Michael Fassbender and creates this stunningly crafted and acted film about a young, handsome, relatively successful man in NYC afflicted with sex addiction. Michael Fassbender is fantastic and so is Carey Mulligan as his differently damaged younger sister.
8. Drive (Nicholas Winding Refn)
Carey Mulligan also stars in my next entry. This time, it's about a stunt driver for movies who moonlights as a getaway driver from criminals. It's a nice, hard-edged pulpy little genre flick that harkens back to some of the classic adult thrillers from the '70s as well as some European/French crime films of the '60s. Ryan Gosling is terrific but Albert Brooks steals the show as the main villain.
7. We Need To Talk About Kevin (Lynne Ramsay)


This is the most recent entry to this top 10 list, having seen it just last week. I was surprised at how much I absolutely loved this film. I have to admit that I've been hesitant to see it despite the critical praise it received because of the upsetting subject matter of a school massacre and I feel I have enough of that in real life. But it's not like that at all. Instead what we have is sort of a hybrid of both a horror film and a character study of woman who has to deal with an apparently sociopathic child. Tilda Swinton is magnificent as is the actors who play her son in different ages especially Ezra Miller.
6. 13 Assassins (Takashi Miike)
I love samurai movies. But I'm not the biggest fan of director Takashi Miike so I was cautiously optimistic with this one but it blew me away. The plot is simple: An psychotic son of a ruling lord has wrecked havoc in a village and 13 samurais/assassins are hired to kill him. It's packed with action and the fact that it reminds me so much of the great samurai films from the 50's and '60's brings a joy to my heart. Is it as great as
Seven Samurai
? No. But it's damn close and it's good enough for a place in the top 10.
5. Certified Copy (Abbas Kiarostami)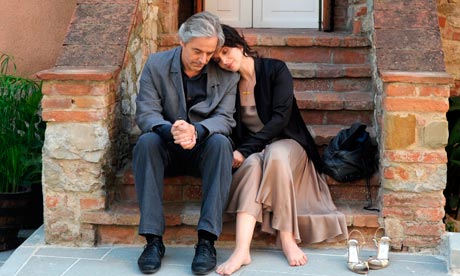 The great Iranian filmmaker travels to France to make a (mostly) French film about a man and a woman who meet and talk. Are they a couple? Are they gonna be a couple? Were they a couple? Are these two alternate realities or flashbacks/flash-forwards? The film never answers these questions but we're left with a superbly acted and thought-provoking piece of cinema. It's sort of like
Before Sunrise
with older people.
4. Pina (Wim Wenders)

I'm not the biggest fan of 3D but there are two films in this list that I would HIGHLY recommend that you see in 3D. This is the first one. I don't claim to be the most cultured guy in the world. But you don't have to be a fan of modern dance to be enraptured, mesmerized and fascinated by this beautiful documentary on the life of the late, great artist, dancer and choreographer Pina Bausch. Director Wim Wenders uses the 3D technology to cinematically capture every dimension and nuance of the art of dance. It's the most superb mash-up of cinema, stage and dance. It is a wonder to behold.
3. Hugo (Martin Scorsese)
This is the other film that I highly recommend that you see in 3D. I recently re-watched this in 2D. It did not diminish the magic of the film, not one bit. Martin Scorsese's first film geared towards younger people is, as critics rightly pointed, probably the most personal and the most Scorsese-esque film in a long, long time despite the absence of bloodshed and violence. It tells the story of an orphaned boy who uncovers a secret left by his dead father. It's also a beautiful love letter to film and the art of film. Knowing what I know about Marty, this film is like glimpse into his heart and soul and of course the heart and soul of any person who loves film.
2. A Separation (Asghar Farhadi)
Like Korea, Iran has had films pop up on my list as of late. This intense, thought-provoking domestic drama from Iran deservedly brokethrough the mainstream and swept through awards season that year and won the Oscar for Best Foreign Language Film. It's unusual because the Academy very rarely awards Asian/Middle-Eastern films. At first, this film seems to be about a couple wanting to separate but something happens which escalates a series of events which complicate things. Though it passed the stringent Iranian censors, this film manages to comment on Iranian society very subtly. A truly great piece of work.
1. The Tree of Life (Terrence Malick)
As I sat in the theater when the credits rolled for
The Tree of Life
, I was stunned, speechless, confused, baffled, moved, etc. All sorts of feelings were rolling in my head. There are so many things I wanna say about this film. All I know is that I witnessed something truly special and purely cinematic in its artistry and language and story, even. It moved me spiritually and affected me deeply and made me think about big questions of life, love, death, the existence of God, our relationship to the universe, etc. Beyond that, the jaw-dropping cinematography by Emmanuel Lubezki and the great performances of the cast simply elevates this film into the stratosphere. As much as I love this film, I can completely understand how some people may HATE it. However, if there's one thing we can agree upon, this film is destined to be talked about for a long, long time. That for me is a mark of a great film.
Runners-Up:
Harry Potter and the Deathly Hallows Part 2
(David Yates);
Midnight in Paris
(Woody Allen);
Mysteries of Lisbon
(Raoul Ruiz);
Super 8
(J.J. Abrams);
Rango
(Gore Verbinski).