FINALLY! This was a tough year. There are so many, many great films that I loved that probably would have made the top 10 every other year but I was able to whittle it down to 10 and the 5 runners-up.
10.
Looper
(Rian Johnson)
Grown-up science fiction are becoming a rare commodity these days. The whiz-bang nature of science fiction these days as evidenced by the dominance of superhero blockbusters can get tiring after a while. So it's quite refreshing to see Looper, a sophisticated, adult, R-rated and very complex time travel sci-fi thriller from writer-director Rian Johnson. It's about a group of assassins who murder people using time travel. The twisty nature of the film prevents me from saying anything further. It's thrilling, emotional and crazy in the best sense of the word.
9. Frankenweenie (Tim Burton)
This is based on Tim Burton's early short film about a boy grieving for his beloved pet Sparky decides to bring him back to life. It's an ingenious very kid-friendly retelling of the Frankenstein tale and at the same time, a love letter to classic monster movies. It's Tim Burton's best film in years and pretty much returns to his roots as a filmmaker.
8. Argo (Ben Affleck)
2012's Academy Award winner for Best Picture may not be my personal top choice but it earns its spot in my top 10. Ben Affleck further cements his reputation as one of cinema's most exciting filmmakers in tackling this true story of a daring rescue of six Americans trapped in Iran during the revolution. Even though you probably know the ending, the film manages to keep to you at the edge of your seat. It's also oddly quite moving.
7. Django Unchained (Quentin Tarantino)
This is a Quentin Tarantino film and as usual, there's a lot of controversy: the prevalent use of the n-word, the racial politics, the over-the-top violence, the lack of originality, Tarantino's off-screen comments. But as usual, love-him-or-hate-him, he delivers a fascinating film. I loved it. At first, I was troubled by the unusual structure which introduces what it ostensibly a fourth act but I've come to realize it's pretty clever. It's definitely a Tarantino film through and through.
6. The Master (Paul Thomas Anderson)
This is a very enigmatic film. Is it a thinly veiled critique of L. Ron Hubbard and Scientology? Is it a critique on organized religion in general? Is it simply a character study on two strange and differently damaged individual? It's all of those things and at the same time not exactly. Well, whatever what you make of it, it still does not change the fact it features a stunning performance from Joaquin Phoenix and he's backed by Philip Seymour Hoffman and Amy Adams who similarly give great performances. It's a film that stayed and haunted me.
5. Six Degrees of Separation from Lilia Cuntapay (Antoinette Jadaone)
This is a Filipino film. It's gonna be a long while before any of you have any access to it since it's obscure even over here but it's gaining a huge cult following among Filipino cinephiles. This is a film about a real-life character actress named Lilia Cuntapay who is often cast as a witch, a ghoul, ghost or creepy old lady in tons of Filipino horror films. It blurs the line between documentary and mockumentary in really funny, absolutely beautiful ways. It's both a love letter to and satirical look at the Philippine movie industry from the eyes of this lowly character actress who finally gets a chance to shine. It's very funny yet also unexpectedly moving.
4. The Kid With a Bike (Jean Pierre Dardenne/Luc Dardenne)
The Dardenne Brothers are known for their beautiful minimalist dramas. There's no finer example than this magnificent piece of work. A boy seeking to get back together with his deadbeat father who abandoned him forms an uneasy relationship with a woman who inexplicably takes him in as her own. The filmmakers have described this as a "fairy tale" but in a gritty, realistic setting. Yet another crown jewel in the filmography of these great filmmakers.
3. Holy Motors (Leos Carax)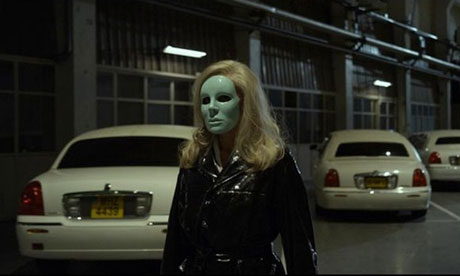 A film that defies explanation. The plot, if you even consider it that, concerns an actor going around in a limo driven by a woman going to their "jobs", basically acting out different, strange scenarios. No explanation is given. This is a film that is guaranteed to surprise you. Films like these can, admittedly, become somewhat irritating and pretentious but this is anything but. It is an extraordinary piece of cinema that reminds me how much I love movies.
2. Moonrise Kingdom (Wes Anderson)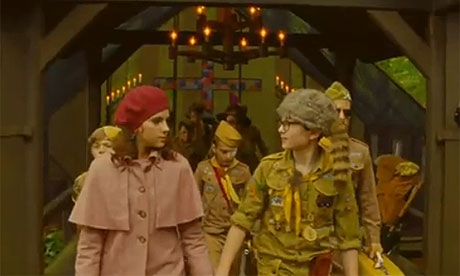 This is pure Wes Anderson. And for me, that's not a bad thing. It's deceptively simple: A young boy falls in love with a young girl and they run away together but what director Wes Anderson and co-writer Roman Coppola did is take that premise and create this entire magical, beautiful world around it with interesting characters and despite all the quirkiness going around, a surprising degree of depth as well as humor that we come to expect of him. It is a remarkable work.
1. Amour (Michael Haneke)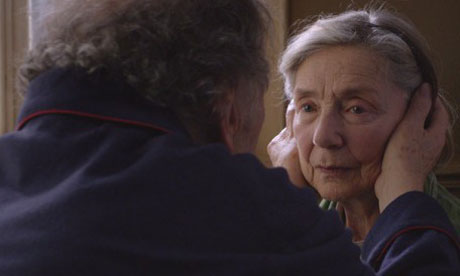 It's kind of neat that my #1 and #2 films are both love stories from the opposite sides of the life spectrum. Amour deservedly won the Oscar for Best Foreign Language Film and is one of Michael Haneke's best works. Jean Louis Trintignant and Emmanuelle Riva, both giants of French cinema, give amazing performances as an elderly couple struggling to keep it together when one of them falls ill. Like a lot of Haneke's works, this film will haunt you for days. And it is the best films of 2012.
Runners-Up: Skyfall (Sam Mendes); Life of Pi (Ang Lee); 5 Broken Cameras (Emad Burnat/Guy Davidi); Lincoln (Steven Spielberg); The Cabin in the Woods (Drew Goddard).