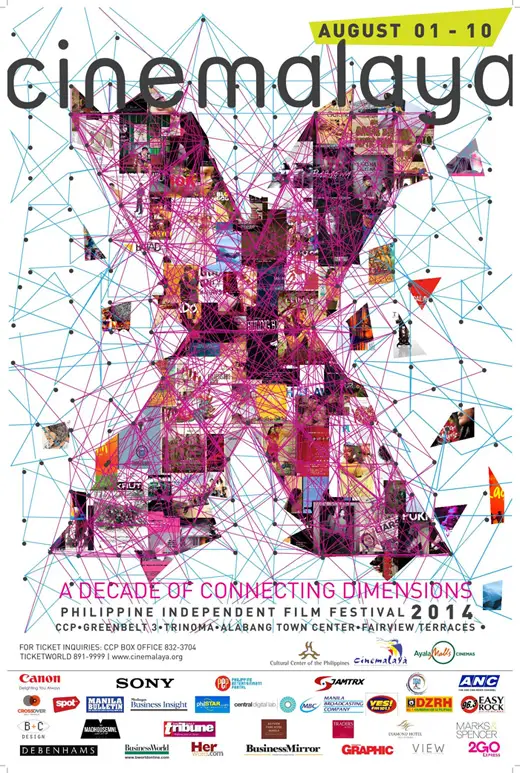 The celebrity deaths this week delayed the posting of this special separate round-up of the films I've seen in the recently concluded 10th annual Cinemalaya Film Festival. I was able to see four features and five shorts and here are my reviews of all of them.
FEATURES
Ronda

("Patrol") (Nick Olanka) **1/2 - I think Ai-Ai De Las Alas is actually an excellent dramatic actress even though she's more known as a broad comedienne. This film lets her stretch her dramatic chops and she gives an outstanding, yet also subtle performance as a police officer going about her usual duties all the while worrying where her son was. The ending of this film was actually spoiled in the synopsis given in the promotional materials so I advise not to read them which is understandable because the script is kind of thin and the film just ends when it got REALLY interesting.



Sundalong Kanin

("Rice Soldiers") (Janice O'Hara) *** - A group of young boys from different social strata in their small rural town face the realities, tragedies and horrors of war during World War II. This should have been the Filipino entry to the subgenre of war movies from the POV of kids/teens:

Hope & Glory

,

Ivan's Childhood

, etc. By the end, it reached its potential but the road getting there was very clunky. It's a film where I felt the director bit off more than she could chew by juggling different story lines and layer upon layer of plot and sub-text as well as balancing tone. The concept was pretty complicated. It needed a master's hand to make it truly fly. It's very flawed indeed. It came together in the end though and worth seeing just for that. While I was watching I felt there are notes of

Tatlong Taong Walang Diyos

in it but it turns out it wasn't coincidence: The script was based on a story written by Mario O'Hara. Janice O'Hara is his daughter.



Dagitab

("The Sparks") (Giancarlo Abrahan) ***1/2 - My personal favorite among the 4 features and 5 shorts I saw during the recently concluded Cinemalaya Film Festival. This is about a middle-aged couple, both college professors. One is a literature teacher who faces a scandal involving her college-bound godson. The other is a writer in the final phases of writing a book about his long-missing lost love. The film is flawlessly acted (led by Eula Valdez and Nonie Buencamino) and beautifully shot and goes into unexpected directions without falling into the traps of simplistic sensationalism or histrionics.



K'Na The Dreamweaver

(Ida Anita del Mundo) *** - This is a film focusing on a Filipino ethnic group called the T'Boli and is in entirely in their own language so I needed subtitles for this one. Even though it's still a Filipino story, it is of a different culture so it's almost like watching a foreign film. The film has an almost documentary-like feel, timeless really (but I'm guessing it's pre-Spanish colonial times). The title character is a young woman who must be betrothed to another man in a warring tribe in order to achieve peace but she's in love with another man. Like with

Sundalong Kanin

, this is a film with a strong concept and ambition but the execution is a little rocky. Still a fine, well-made film.
SHORTS



Asan si Lolo Me?

("Where's Grandpa Me?") (Sari Estrada) **1/2 - A mother tells her young son that his recently deceased grandfather has turned into a goat. What happens next is alternately weird and comic. It's an amusing enough film but it only addresses the issue of how to deal with loss superficially and sacrifices it for the sake of comedy and the weird ending. It's still an entertaining enough film.



Padulong sa pinuy-anan

("Going Home") (Eden Vallarba) *** - An American meets up with a prospective Filipina wife he met online only to be robbed. He is taken in by a single mother and her son. It's a nice little film that works because the central performance was strong but I feel that this could have been better as a feature.



The Ordinary Things We Do

(David R. Corpuz) *** - This is more of an experimental film. It consists of three shots shown in split screen featuring three married couples: one straight, one gay, one lesbian. Things happen. I don't know if the filmmaker intended for this as a statement on marriage equality or not but it is an interesting enough concept.



Tiya Bening

(Ralph Quijano) **1/2 - An elderly woman with Alzheimer's is left under the care of a caregiver by her daughter. The film's heart is in the right place but it's a rather thin story bolstered by artsy touches. Kind of forgettable.



Mga Ligaw na Paruparo

("The Wandering Butterflies") (J.E. Tiglao) ***1/2 - Despite the fact that I sort of guessed the ending of this film right when it's about to happen, this is probably my favorite of these bunch of shorts, mostly due to the great performances and sparkling, energetic dialogue. The story is about a loving husband finds out his wife may be cheating on him. But there's a twist!