I apologize that I've been slow in posting lately.
10. In Bruges (Martin McDonagh)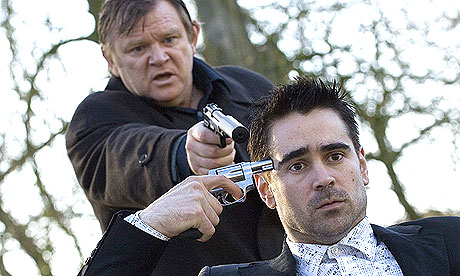 Great black comedies have been hard to come by lately. So this film was a breath of fresh air. The film kicks off with a shocking, violent death of a young child yet still manages to make you laugh. That's something special right there. It's about a hit man whose accidental killing of a young boy leads him to be suicidal. Colin Farrell gives probably one of his career-best performances in this remarkable little gem of a film.
9. Slumdog Millionaire (Danny Boyle)
This was a surprise hit of 2008. A little film by English director Danny Boyle featuring a mostly unknown Indian cast became a huge juggernaut in the Oscar-season and won a near-sweep 8 awards. It's a lovely feel-good tale about a young man who joins the Indian Who Wants To Be A Millionaire? game show in order to try and find his lost love. It's a hokey fairy tale for sure but in the hands of Danny Boyle, it becomes gritty and stylish as well.
8. The Dark Knight (Christopher Nolan)
I was not a big fan of Batman Begins so I wasn't really looking forward to this all that much, even with Heath Ledger's last completed performance. But I saw it and I was very impressed. It's a really dark film especially for what is technically a superhero movie. Heath Ledger deservedly won a Best Supporting Actor Oscar for his performance which I think would have happened anyway had he not tragically died.
7. Hunger (Steve McQueen)
This film does not introduce its lead character until half hour into the film. It also contains a really long scene with just two people talking (pictured above). It tells the story of Bobby Sands, an IRA hunger striker. The film is of course challenging to sit through because, like what I described above, this is not a film which follows Hollywood conventions. This is also the film that introduced the world to Michael Fassbender, who has since become one of world cinema's biggest actors.
6. The Band's Visit (Eran Kolirin)
An Egyptian (i.e. Muslim) band gets lost while trying to find their way to their gig, playing at a special function in Israel. They find themselves temporarily stuck in a small Israeli (i.e. Jewish) town. This film does not ram down a message down your throat but naturally expresses it through its story and its characters. It's a lovely, slice-of-life film which celebrates the humanity of their characters despite their differing races and creeds.
5. Milk (Gus Van Sant)
I often find that biopics are mediocre films which are often dreadfully formulaic and designed to make their stars win Oscars. Yet here I am, placing two biopics in my Top 10 but these biopics somehow escape those trappings. This time around, it's about Harvey Milk, the first openly gay man to be elected into public office and whose life was also tragically cut short by violence. Sean Penn gives an amazing performance and he is helped by an extremely strong supporting cast (Josh Brolin, James Franco and Emile Hirsch were all amazing) and Gus Van Sant's direction keeps it from being just another lame biopic.
4. A Christmas Tale (Arnaud Desplechin)
A matriarch of a rather dysfunctional French family is diagnosed with cancer and must find a bone marrow match during a Christmas gathering. Now, at the hands of less-than-capable writer-director this film will inevitably dissolve into a formulaic, manipulative film which will wring in the tears of its audience. This film does not. It's not afraid to make its characters unsympathetic and eschews sentimentality but still manages to make you care for them. Catherine Deneuve heads the strong ensemble of actors.
3. The Wrestler (Darren Aronofsky)
On paper, this film didn't sound too appealing for me: An aging professional wrestler, down on his luck, wishes to reconnect with his estranged daughter. But thanks to director Darren Aronofsky and the stunning performance of Mickey Rourke (whose career was given a jump-start thanks to this film), it is an gut-wrenching and emotional piece of work. The last scene is quite haunting and moving.
2. Let The Right One In (Tomas Alfredson)
If Twilight gave you a distaste for human-vampire love stories, this movie will restore your faith in that particular sub-genre. Based on a best-selling novel, this great Swedish horror film is about a young boy who befriends a peculiar young girl who happens to be a centuries-old vampire. It's a sweet coming-of-age drama and it's also a scary, frightening and disturbing horror film. I would put this as one of the vampire movies ever made.
1. WALL-E (Andrew Stanton)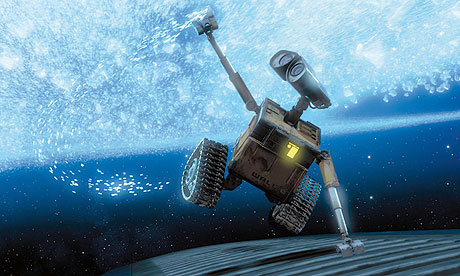 Speaking of love stories, how about a love story between two robots? That's exactly what WALL-E is about and more. I'm a huge fan of PIXAR and they have made a lot of great work and this one, I believe, is one of their flat-out masterpieces. It's funny and moving but also stunningly beautiful. The first act which features almost no dialogue is triumphant achievement in visual storytelling and sound design that is simply remarkable. It's a great, great piece of work.
Runners-up: Gran Torino (Clint Eastwood); Hellboy II: The Golden Army (Guillermo Del Toro); The Curious Case of Benjamin Button (David Fincher); Appaloosa (Ed Harris); Kung Fu Panda (John Stevenson/Mark Osborne).