Time to continue this.
10. Dogtooth (Yorgos Lanthimos)
This film is shocking, outrageous, disturbing and, dare I say it, even darkly funny. If you think your parents were over-protective, they're nothing compared to these. A couple, for unknown reasons, keep their three young adult children completely isolated from the outside world, to the point where they pretty much built an entire almost alternate reality for them. There are things in here that will make you squeamish and you'll want to talk about it for days.
9. The Ghost Writer (Roman Polanski)
At first I thought it was simply a solid thriller but after stewing on it for a long while, I've come to realize how pretty damn great it is. Ewan McGregor plays the unnamed title character who was hired to "ghost write" the biography of a former British Prime Minister but things are not always what they seem. Do watch out for Olivia Williams as the Prime Minister's wife.
8. Scott Pilgrim vs. The World (Edgar Wright)

This film surprisingly BOMBED in theaters. Chalk it up to the relatively obscure source material or Michael Cera fatigue but few films are this much fun, funny and very enjoyable. A ne'er-do-well garage band member must battle the seven evil exes of the girl of his dreams. It's got imaginative visual flair, chockful of fun pop culture references and winks and laughs galore.
7. Another Year (Mike Leigh)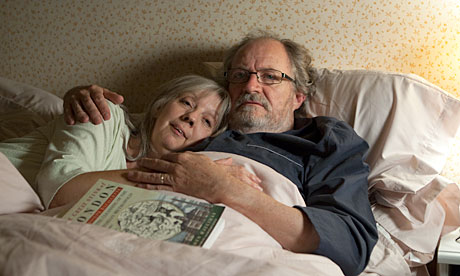 I didn't expect how much I would fall in love with this film. Basically, it's all about one year in the life of one older couple and all their friends and family. The couple, played by Jim Broadbent and Ruth Sheen, are for the most part perfectly happy and content but their friends and family are a whole other matter especially for their one friend Mary, played by the incredible Lesley Manville who was robbed of an Oscar nomination that role.
6. Mother (Bong Joon-ho)
This is the newest entry in my Top 10 list. My official review of it will be posted in the Weekly Round-Up on Sunday but suffice to say, spoiler alert, I loved it. South Korea has been a hot bed of lots of mighty interesting films and filmmakers and Bong Joon-ho is probably my favorite among them. This comedy/drama/thriller/whodunit pretty much seals the deal. Great film.
5. The Social Network (David Fincher)
The idea seem preposterous. A film about Facebook? Get out of here. But trust David Fincher to create a very interesting, stunningly crafted film on the subject that probes deeper than simply just a movie about social networking. Jesse Eisenberg is simply great as Mark Zuckerberg, the young man who started it all.
4. Exit Through the Gift Shop (Banksy)

If you think a documentary about art can't be fun, think again. This really funny and yet also thought-provoking, umm, I guess you can call it a documentary, is just such a joy from start to finish. This film is about street artist Banksy and his relationship with a unique character named Mr. Brainwash. It's best not to delve into it too much and just see it unfold. Some people might even question its authenticity as a documentary but whatever it is, it's great cinema.
3. Toy Story 3 (Lee Unkrich)
PIXAR has been cranking great films since they started making, at least up until this point. Toy Story 3 is a funny, moving and simply wonderful third part (I hesistate to call it a "conclusion") to the franchise that launched the PIXAR brand into infinity and beyond. This never fails to pull one's heartstrings and tickle one's funny bone.
2. Carlos (Olivier Assayas)


Technically, this is a television miniseries at least that's how it was released in the U.S. But goshdarnit, it is such a great, great piece of work that I simply HAD to include it here. Edgar Ramirez gives a really towering performance as notorious terrorist Carlos The Jackal. It's not simply a biopic but it comes off more of a character study and therefore makes it deeper and more resonant. It's probably one of the best films about terrorism and it's almost as good as Battle of Algiers.
1. Black Swan (Darren Aronofksy)
I've read lots of negative criticisms levelled against this film but none of it wavered my love for it. This film combines very high-brow elements like classical ballet and psychological drama with low-brow elements like horror, camp and exploitation. I've said it before that this film is "pretentious camp" and I mean that as a compliment. Balancing it all is the great performance by Natalie Portman. I actually do not like Natalie Portman as an actress. I haven't really liked her since her debut in
The Professional
but I was blown away by her in this. She truly deserved her Best Actress Oscar.
Runners-Up: Inception (Christopher Nolan); The Fighter (David O. Russell), The King's Speech (Tom Hooper), Never Let Me Go (Mark Romanek); The American (Anton Corbijn).