10. Spider (David Cronenberg)
Director David Cronenberg began his rather fascinating streak of films during the 2000's with this twisty dramatic mystery about a mentally crippled man going back to his childhood place and we flashback to his troubled childhood revealing layers upon layers of mysteries underneath. Ralph Fiennes and Miranda Richardson both give some of their best career performances in this film. It's also a film I have some sentimental attachment to because my review of this film was the article I've ever written that was published in a major circulation newspaper.
9. Y tu mama tambien... (Alfonso Cuaron)
Two horny older teenage boys go on a road trip with an older woman and along the way discover things about themselves and one another. It plays like a teen sex comedy but with much more depth and nuance than any of the American teen sex comedies. It's also moving and thought-provoking as well as being funny and erotic.
8. The Lord of the Rings: The Two Towers (Peter Jackson)
Peter Jackson's second chapter of his hugely ambitious Lord of the Rings trilogy of films suffers only from the fact that it doesn't have a beginning and it doesn't have an end since it is after all the second part of a trilogy. What it does have is an extraordinary groundbreaking achievement in the form of Gollum, a CGI character who actually gives a big dramatic convincing performance with the help of Andy Serkis and the technical wizards at Weta.
7. Chicago (Rob Marshall)
I'm a huge fan of director-choreographer Bob Fosse. It breaks my heart that he passed away before he got the chance to do the film version of the Kander and Ebb musical Chicago. I would have loved to have seen his version but what we got here was pretty darn great. Rob Marshall does a great job of capturing the biting cynicism of the piece as well as splashing it with great song and dance numbers. Wow. It's been a while since a Best Picture Oscar winner has appeared on my Top 10 list. Haha.
6. Late Marriage (Dover Koshashvilli)
2002 is the year that My Big Fat Greek Wedding surprised and made a ton of money. The Israeli film Late Marriage is of a similar vein. It's also a comedy where the protagonist's very traditional family wants him to get married and he's in love with someone that's outside of what is tradition. That's where the similarities end. The film though often funny, is also quite dark and doesn't have a Hollywood ending. But don't make that stop you from seeing it. Oh, and it has a very explicit, very raw and very honest sex scene right in the middle of it.
5. Far from Heaven (Todd Haynes)
This is writer-director Todd Haynes' loving tribute to the films of Douglas Sirk whose films though containing melodramatic and soap opera-ish elements are actually quite subversive for its time. Haynes takes the format, twists it around and turns it into something quite extraordinary. I happen to love the films of Douglas Sirk and seeing them eventually made me appreciate this film more. Julianne Moore gives perhaps my favorite performance from her as a woman infatuated with a black man while discovering her husband is gay.
4. The Pianist (Roman Polanski)
Director Roman Polanski, despite his tarnished reputation, has made quite an extraordinary cinematic oeuvre. He won an Oscar for this film. Yes, it's him tackling one of the Academy's favorite subject matters, the Holocaust and World War II, it's still a pretty great film worthy of its accolades. This tells the story of Polish Jewish pianist Wladislaw Szpilman who (spoiler alert) survived the Holocaust and this is the story from his perspective. Adrien Brody was fantastic in this.
3. Hero (Zhang Yimou)
Ever since Crouching Tiger, Hidden Dragon, I've been trying to see a whole bunch of martial arts/wu xia films whenever I can. Zhang Yimou's visually astounding martial arts epic Hero is probably my favorite. Combine eye-popping cinematography and the stunningly beautiful martial arts choreography and you have a film that's a winner through and through.
2. Talk to Her (Pedro Almodovar)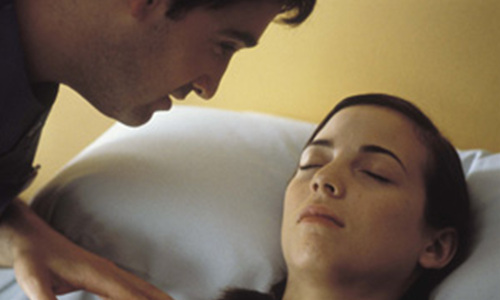 Pedro Almodovar's streak of great films continue on with this unconventional love story. It's about two men who are both in love with comatose women. This is a film that could have easily have gone wrong or become way too distasteful and weird but what he did was create something that's actually quite touching yet also remaining to be somewhat wild and wacky in his own Almodovar-ian way.
1. Spirited Away (Hayao Miyazaki)
This is a film that made me wanna stand up and cheer. I've seen it numerous times. It's the film that made me open my mind to anime (a subgenre I disliked at first) and I've since seen and liked a whole of bunch but this one remains my favorite anime (though Nauiscaa of the Valley of the Wind might be a strong challenger for that title). Animation genius Hayao Miyazaki creates this extraordinary Alice In Wonderland type tale of a young girl's adventures in the world of the spirits. It's filled with astonishing visuals and breathtaking and thrilling storytelling that's sure to make you wanna go back again and again and again.
Runners-Up: Femme Fatale (Brian De Palma); About a Boy (Chris Weitz/Paul Weitz); 8 Women (Francois Ozon); Confessions of a Dangerous Mind (George Clooney); Punch Drunk Love (Paul Thomas Anderson).