No, I did not forget about this. Just been busy plus the laptop that I had my list is in the shop. I had to recreate this list from memory.
10. Into the Wild (Sean Penn)
A truly unique biographical film about the life of Christopher McCandless, a youth who decides to retreat from civilization and live in the wilderness in solitude. Based on the book by Jon Krakauer, it features Emile Hirsch who gives a truly remarkable performance and sealed his place as one of the best actors of his generation. Sean Penn should really direct more movies because he has a unique eye as a director.
9. We Own The Night (James Gray)
This is quite an overlooked gem. Many people have dismissed or ignored this crime drama about a police family with a criminal son (played by Joaquin Phoenix). But it's thrilling and moving, really rather old-fashioned film which, I could safely describe as a feature length version of "The Prodigal Son". James Gray is one of those unsung American directors. Bonus points: It features one of the most thrilling car chase scenes ever filmed.
8. The Assassination of Jesse James by the Coward Robert Ford (Andrew Dominik)
I never thought of Casey Affleck highly as an actor until this year with his performances in Gone Baby Gone and this film, where he was nominated for Best Supporting Actor, which is the wrong category. He is a LEAD character in this film about well, a legendary criminal of the Old West Jesse James (Brad Pitt) and his ill-advised friendship to Robert Ford. The film's slow pace may bore some but will mesmerize and enthrall others. It features some of the finest, finest work by the great cinematography Roger Deakins. Some shots in this film just plain gave me goosebumps.
7. Zodiac (David Fincher)
I love true crime dramas and unsolved mysteries, mostly as a guilty pleasure. However, this film raises those two elements to cinematic art thanks to director David Fincher's auteurist talents. The film draws you in and wraps you in the mystery yet--SPOILER ALERT--even if it didn't solve it, you don't leave dissatisfied. This is a worthy American counterpart to Bong Joon-ho's Memories of Murder.
6. Ratatouille (Brad Bird)
PIXAR's winning streak continues on with Ratatouille. This time, it's about a rat (voiced wonderfully by Patton Oswalt) who wants to become a chef. Like all the other PIXAR films before it, it mixes great animation with laughs, thrills and even a lot of heart. It's the kind of film you wanna watch again and again and again.
5. 4 Months, 3 Weeks and 2 Days (Cristian Mingiu)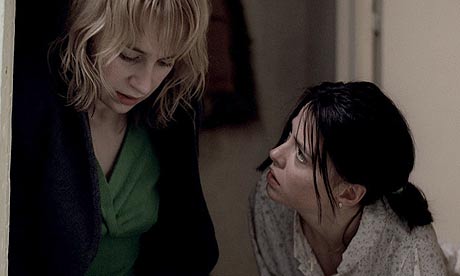 Unlike Ratatouille, this is one film you wouldn't wanna watch again and again and again. But it's still a great film nonetheless. It's from Romania. It's set in the 1980's Romania and it's about young woman who procures an illegal abortion for her none-too-bright friend. I'm not going to lie when I say if a pro-life person sees this movie, he or she will think it's pro-life and a pro-choice person will think it's pro-choice. I will say it's both and neither. That's one of the things that makes this film very compelling and a real must-see.
4. Sweeney Todd: The Demon Barber of Fleet Street (Tim Burton)
I love musical theater. I'm a huge fan of Stephen Sondheim and Sweeney Todd is probably my favorite all-time musical so I was super-excited to find out Tim Burton, one of my favorite directors is adapting this on-screen and personally, it didn't disappoint. Sure, purists may scoff at the fact that the songs were cut and that Johnny Depp and Helena Bonham Carter were not singing them in the traditional way. The power of the stage play still remains and it's one of the best films of the year.
3. The Diving Bell and the Butterfly (Julian Schnabel)
This film tells the true story of Jean Dominique Bauby, a French magazine editor who suffered a massive stroke which rendered him paralyzed throughout most of his body except his left eye in a condition known as locked-in syndrome. But despite that, he managed to compose and write an entire book which this movie is based on. At the hands of a less competent director, this probably would have been sappy trifle of a film but director Julian Schnabel created something that rises above that level while still retaining its life affirming message.
2. No Country for Old Men (Joel Coen/Ethan Coen)
This is this year's Oscar for Best Picture and I sort of kind of agree. It certainly is one of my favorite Coen brothers films (second only to Fargo). An adaptation of Cormac McCarthy's novel, this tells the story of a man who unwisely keeps a bag full of money belonging to a mysteriously methodical killer. The film contains almost no music and features a scary Oscar-winning performance by Javier Bardem, as Anton Chigurh, one of the most memorable screen villains of all time, IMO.
1. There Will Be Blood (Paul Thomas Anderson)
In films like Magnolia and Boogie Nights, writer-director Paul Thomas Anderson has signs of being a great filmmaker but those films for me have flaws which prevent me from saying that their GREAT films. This film, on the other hand, is where I think Paul Thomas Anderson finally comes of age as a great filmmaker and one of the most exciting American filmmakers of today. Daniel Day-Lewis delivers a larger-than-life performance as Daniel Plainview, a rutless oil man. This is the best film of 2007, a stunning, remarkable achievement.
Runners-Up: Gone Baby Gone (Ben Affleck), Away from Her (Sarah Polley), Juno (Jason Reitman), Eastern Promises (David Cronenberg), Bug (William Friedkin).