10. Dogville (Lars Von Trier)
This is an extraordinary but at same time a maddening film. It's shot on digital cameras inside of a practically threadbare sound stage with very minimal sets and props with chalk outlines often substituting for scenery. It's got a huge ensemble of actors, many of them A-list headed by Nicole Kidman who gives one of her career-best performances. It tells the story about a small town in America who decide to provide sanctuary to a woman on the run from the mob. Off this conceit, Lars Von Trier launches into scathing attack on American society and the nature of people in general. It's a love-it-or-hate-it film and for that reason, I love it.
9. The Triplets of Belleville (Sylvain Chomet)
This film barely has any dialogue and the characters are not conventionally cute. In fact, they are at times grotesque and some of the designs are kind of surrealistic in nature but the film still manages to win you over and endear you to this world. It's about a grandmother who is raising her lonely grandson and nurtures and trains him in bicycle racing. Somehow the titular jazz group is involved. I will say that the grandmother is probably one of the best grandmother characters in the history of cinema.
8. Whale Rider (Niki Caro)
I actually placed this as a runner-up in my 2002 list but I decided to move it in 2003 (it was released in the U.S. in 2003) so I can actually place it in my top 10. Anyway, this is a wonderful family film about a young Maori girl who clashes with her loving but stern and traditionalist grandfather when she wishes to be trained to be a tribal leader. It's a feminist tale for sure but one made with heart and love and no preachiness. Keisha Castle Hughes in the title gives a great performance and was deservedly nominated for the Best Actress Oscar.
7. Finding Nemo (Andrew Stanton)
PIXAR wields its magic again with this wonderful animated tale about a clown fish named Marlin who overprotects his only surviving son Nemo. They get separated and he must travel across the oceans to find him with the help of Dory a fish who has trouble with short-term memory. It's not my favorite PIXAR film but it's still better than 99% of all movies released that year thanks to great animation and the delightful voice work by Albert Brooks and Ellen DeGeneres.
6. Kill Bill Vol. 1 (Quentin Tarantino)
This is writer-director Quentin Tarantino loving (and very bloody) tribute to all the great kung-fu and samurai movies he as a film geek grew up watching. The plot is simple: A deadly lady assassin survives a massacre at her own wedding and awakes from her coma vowing revenge on everyone responsible culminating up to the Bill of the title. It features an ultra-hip soundtrack, very funny dark humor and of course savage violence. People have described as cinematic masturbation. Well, it is. But it's still fun.
5. Zatoichi (Takeshi Kitano)
As great as Kill Bill Vol. 1 is, it's not my favorite 2003 film featuring a sword-wielding character. It's actually this one. There have been quite a lot of films about Zatoichi, a blind but extremely deadly and efficient samurai assassin. I've seen two of them. I think this one is the better one. It's an exciting piece of film, very well directed by its star. It is worth seeking out especially if you love samurai movies.
4. Memories of Murder (Bong Joon-ho)
This terrific Korean thriller is based on a true story about a serial killer targeting young girls and young women in the South Korean countryside. Two detectives are assigned to solve it and bring the killer to justice. It may sound like a generic procedural film but it is anything but. You are emotionally and heavily involved with these two men that the problem of the identity of the killer becomes just an afterthought. You're just absorbed by the drama of it all especially in the context of Korean society.
3. Lost in Translation (Sofia Coppola)
A washed-up actor doing commercials for money and a younger woman left behind by her busy celebrity photographer husband meet and form a special friendship while in Tokyo, Japan. This film has one of Bill Murray's greatest performances, established Scarlett Johansson as one of a major young actress and turned Sofia Coppola into one of world cinema's major auteurs and netting a well-deserved Original Screenplay Oscar and a nomination for Best Director.
2. The Son (Le Fils) (Jean Pierre Dardenne/Luc Dardenne)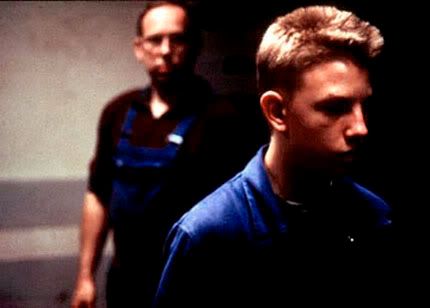 This is from the Dardenne Brothers, a filmmaking duo from Belgium known for their sparse, minimalist but powerful dramas. This is a great one from them. The key to this film is that the less you know, the better the experience is and since I'm going to be featuring this film later this week, I will not say anything further about it.
1. The Lord of the Rings: The Return of the King (Peter Jackson)
In my own way, I am honoring the entire trilogy by making the third and final (at least until The Hobbit) chapter of The Lord of the Rings trilogy my number one of the year. I recently rewatched the extended editions of all three films and also watched the in-the-making documentaries and they're still extraordinary, passionate and wonderful pieces of work. Great job from Peter Jackson and company.
Runners-Up: The Return (Andrey Zvyagintsev); City of God (Fernando Meirelles); Swimming Pool (Francois Ozon); School of Rock (Richard Linklater); Love Actually (Richard Curtis)