10. Moolade (Ousmane Sembene)
This is the first film I've seen from the country of Senegal and is directed by one of the most prominent filmmakers in all of Africa, Ousmane Sembene. It's not a documentary. It's a fiction narrative but it tells a very real story and problem in Africa of female circumcision. It's a dead serious topic but the film manages to inject humor and the film is very colorful and endlessly fascinating. It's one of the wonderful things about cinema, it opens our eyes to other cultures we would otherwise remain ignorant about.
9. Kill Bill Vol. 2 (Quentin Tarantino)
The second half of Quentin Tarantino's martial arts movie inspired revenge epic may not have as much action scenes as the first one but it's still a pretty damn good and very satisfying conclusion to the saga of the Bride. Uma Thurman is still terrific but David Carradine gives a beautiful, layered performance as Bill.
8. Harry Potter and the Prisoner of Azkaban (Alfonso Cuaron)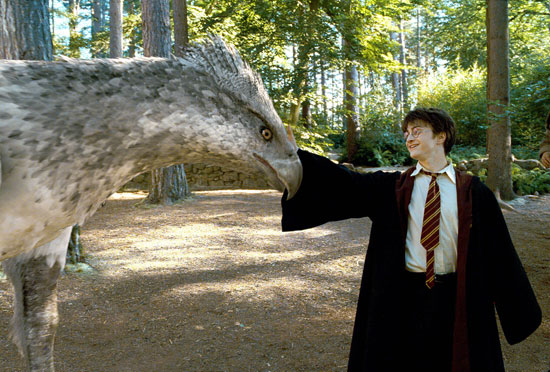 I'm a huge Harry Potter fan. More the books than the films though. The films have been good but only some of them were GREAT. This is one of the great ones. The Harry Potter movie series did not benefit from a singular vision of an auteur unlike the Lord of the Rings series. But an auteur did breathe life into the franchise. Director Alfonso Cuaron built the foundation which the subsequent films expounded on and that's why they're successful and critically acclaimed.
7. Shaun of the Dead (Edgar Wright)
Edgar Wright, Simon Pegg and Nick Frost broke through and made their mark in the world of cinema with this fantastically hilarious tribute to and a spoof of zombie movies. It is a laugh-riot through and through with plenty of clever gags. This is definitely one to see again and again and it's one of my personal favorite comedies.
6. Kinsey (Bill Condon)
Biopics are usually cliched, dull, predictable Oscar-bait movies. But not this one. This is a fascinating film on the life of Alfred Kinsey, a renowned scientist best known for his groundbreaking study on human sexuality. The film avoids being too dry or way too lascivious or sensationalistic but instead gives a very honest, tasteful treatment of its subject matter. Liam Neeson, Laura Linney and Peter Sarsgaard give great performances as well.
5. Eternal Sunshine of the Spotless Mind (Michel Gondry)
I know the name in the parentheses is Michel Gondry who directed this film but I think the REAL creator of this particular film is screenwriter Charlie Kaufman who after Being John Malkovich and Adaptation turns in probably his best work to date. It's a really strange but wonderful romantic-comedy about a man who tries to wipe memories of an ex-girlfriend only to find himself fighting it as he's undergoing the process. It's surrealistic yet it's emotionally involving. Kate Winslet is terrific as the girl but Jim Carrey gives one of his career-best performances in this film.
4. Spring, Summer, Fall, Winter...and Spring (Kim Ki-Duk)
Korea has been producing her share of really interesting films this century and this is just one of the many, many ones out there. Spring, Summer, Fall, Winter...and Spring tells a rather cyclical story (like the title) about a Buddhist monk and his apprentice living in a floating monastery. The tragic and joyful moments are beautifully captured on film by director Kim Ki-Duk. It's highly recommended.
3. Before Sunset (Richard Linklater)
The sequel to Before Sunrise is every bit as great and in some cases even better than the original. Like the original, the film is basically a conversation between two people who connected that unforgettable couple of days years before. We catch on what happened since and they connect once again. I particularly loved the ending of this one. Ethan Hawke and Julie Delpy are so great on-screen together.
2. The Incredibles (Brad Bird)
As I've written before, I loved The Avengers but I do think The Incredibles is still my favorite superhero movie. This is just another jewel in the crown of PIXAR Animation Studios and this time, it's teamed up with another animation genius, Brad Bird who brings to life a fun, witty, exciting, action-packed animated movie that pretty much blows most other live-action action movies away.
1. Bad Education (Pedro Almodovar)
I often like to compare PIXAR with director Pedro Almodovar since he too had a really awesome streak of movies around the same time as PIXAR. This is also another jewel in his crown. This is essentially is a gay film noir. It's about a young film director who gets a visit from a childhood friend from Catholic school and a complex web of sex and deceit and the blurring of reality and fantasy happens. It's dark, disturbing and rather explicit but it is one of my favorite films of the year.
Runners-Up: Sideways (Alexander Payne); Mean Girls (Mark Waters); I Heart Huckabees (David O. Russell); Million Dollar Baby (Clint Eastwood); Vera Drake (Mike Leigh).