This is a first in a series of blogposts (much like my "great scenes" one) where I simply list down my different favorite types of films. I can't think of a better way to kick it off than tackle the cinema of my home country, the Philippines. Philippine cinema has always been a blind spot for even the most hardcore of film buffs (who are not Filipinos, at least). Unlike many other countries, events in our history has not treated the preservation of Filipino films very kindly. With a few exceptions, practically all of our films, even the ones considered to be classics, before the 1960's and the 1950's are lost. Plus the ones we do have are mostly in bad shape. A few directors have made some dents and waves internationally, most notably Lino Brocka, Eddie Romero, Gerry de Leon, Ishmael Bernal, Manuel Conde and Lamberto Avellana but they're nowhere near as famous as Akira Kurosawa, Federico Fellini or Francois Truffaut.
More recently though, Philippine cinema has found its niche, in a way, in world cinema thanks to our new wave of sorts of independent filmmakers such as Aureus Solito, Raya Martin, Lav Diaz, Jeffrey Jeturian, Khavn de la Cruz and Brillante Mendoza, who won the Best Director prize at Cannes for his controversial film Kinatay.
In an effort to raise more awareness and appreciation of Filipino cinema, here's a list of, in my opinions based on what I've seen so far, the 10 best Filipino films:


10. The Blossoming of Maximo Oliveros (2005, Aureus Solito)
This is a sweet coming of age dramedy about a 12 year old gay boy, Maximo, who comes from a family of petty thieves who falls in love with a rookie policeman next door. It's more sweet and moving than in any way, shape or form racy or leery, this is probably the film that hearken the new wave of Filipino independent films that are currently making waves in film festivals around the world. It's also our biggest international hit. This film currently available on DVD on Amazon and Netflix.
09. Kakabakaba Ka Ba? ("Does Your Heart Beat Faster?") (1980, Mike de Leon)
This is quite simply one of the most bizarre and most giddily original films I've ever seen. This is a musical/comedy film about four friends (two pairs of couples) who go on a really strange journey which I will not reveal here but it does culminate in the image you see above. It's probably the lightest film on this list, certainly one of the best Filipino comedies ever made. This is the first film on this list by one of my favorite directors ever, Filipino or otherwise, Mike de Leon.
08. Oro, Plata, Mata (1982, Peque Gallaga)
I once read an article claiming that Robert Duvall saw this film and remarked that he felt it was better than Apocalypse Now. I'm not sure about that though but this is a great film. Set during World War II in the Philippines, this tells the tale of an affluent Filipino family in the rural area and their harrowing experience during the war. This is a three-hour epic featuring scenes of both breathtaking beauty and absolutely disturbing violence. The DVD is already hard to come by, even locally.
07. Scorpio Nights (1985, Peque Gallaga)
This comes from the same director of Oro Plata Mata, Peque Gallaga. It's a far more intimate film but it's no less harrowing, gripping and disturbing. It's about a young man who spies on the beautiful wife of a nightwatchman in the apartment underneath his room. His voyeurism eventually leads into an extremely torrid affair with the woman. The sex scenes are notorious for being one of the most explicit ever filmed in Philippine cinema. I would compare this to the Japanese film In the Realm of the Senses although it's just a smidgen less "real" than that. The ending is pretty f-ed up.
06. Maynila Sa Kuko Ng Liwanag ("Manila in the Claws of Brightness") (1975, Lino Brocka)
This is probably the most famous Filipino film. It's often cited as the best Filipino film ever made. I sort of disagree with that since there are at least five I like better. But it's still a great one. It's about a young man from the rural area of the country who goes to the big city in search of his childhood sweetheart whose name "Ligaya Paraiso" means Happiness Paradise. Owing a lot to Italian neo-realism, the film is a rather bleak look of the rural poor searching for prosperity in the city.
05. Himala (1982, Ishmael Bernal)
This film was recently voted as the "Best Asia-Pacific Film" of all time, according to a CNN poll. I may not agree with that and I attribute its success to mouse-click happy Filipinos who like to see anything Filipino as "best" at something. But it is still a great film. Plus I have to admit there is a bit of bias going on here because I happen to personally know the screenwriter of this film, Ricky Lee, who is a friend and mentor of mine. Well, what's this film about? The word himala means "miracle" and this is about a woman named Elsa (played by Nora Aunor who delivers one of her most iconic and famous roles in Filipino film history) who claims to have seen visions from God and starts healing people from miles around. It's one of the most intelligent films about religion and faith that's still compelling and relevant today as it ever was. The DVD may also be available in Netflix.
04. Tatlong Taong Walang Diyos ("Three Godless Years") (1976, Mario O'Hara)
This is an excellent companion piece to Oro, Plata, Mata in that it also tackles World War II in the Philippines. This time, it's about a family in a rural village whose daughter (played again, by Nora Aunor) is raped and impregnated by a Japanese-Filipino soldier who is fighting for the Japanese side. He aims to make amends by courting her and eventually marrying her. Her family is branded and scorned as traitors by most of the village. My fellow Filipino film critic Noel Vera says *this* is the best Filipino movie ever made. I disagree with him slightly but it's still in the Top 5.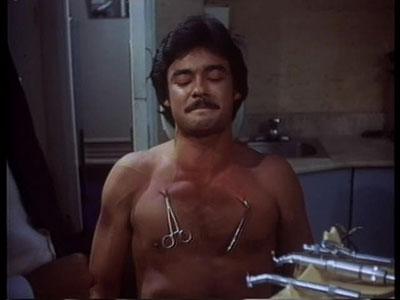 03. Batch '81 (1982, Mike de Leon)
This is yet another Mike de Leon film. This time around, it revolves around a group of college guys who wish to join a college fraternity. But it involves a series of brutal, painful, humiliating and often extremely violent hazing rituals. Although it is at times funny, the violent sadism can pretty much rival the stuff in Quentin Tarantino films. (Man, lots of bleak films on this list!)
02. Kisapmata ("In the Blink of an Eye") (1981, Mike de Leon)
Oh, man. I just saw this movie yesterday (it will be featured again in my "Weekly-Round-Up" series). It has jumped into my favorites of all time list fast. This is yet another superb masterpiece from director Mike de Leon. It concerns a young woman who gets married to her boyfriend but her "overprotective", authoritarian father lingers over them causing friction in their respective relationships but the "overprotectivness" of the father masks a deeper, darker secret. I would describe this film as a totally f-ed up version of Father of the Bride (I think some of you may already guess what it is). It features fantastic performance from Vic Silayan who plays the father. He is downright scary but all-too human which makes him even more terrifying. This film is actually available for viewing on Youtube but unfortunately it has no English subtitles.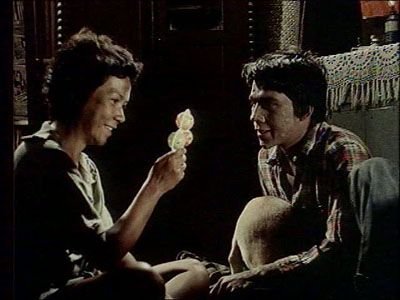 01. Tinimbang Ka Ngunit Kulang ("Weighed but Found Wanting") (1974, Lino Brocka)
The number one film is actually quite close to the number two film. Anytime they can switch but for now, let's keep the order. This is probably my favorite and what I personally consider the best Filipino film. This one is about a young man from an upper-middle class family in a town. He befriends a mentally-ill woman and a horribly disfigured man (played by Mario O'Hara who directed Three Godless Years) who are the village outcasts. His involvement with these two characters would open his eyes to the buried secrets of his town and the utter cruelty and hypocrisy of the more "civilized" people in his town. Director Lino Brocka has made a lot of social commentary films but this one is his best and basically personifies all his unique strengths as a director. This one is also available on DVD but you have to really look for it.
I sincerely hope that you guys try and give Filipino films a chance. These are five great films to start with!